Community makes up who we are. As an association, our members and affiliates desire to invest in their communities: local, regional, state, and national. East Tennessee Realtors strives to provide opportunities and resources for our members to do just that.
REALTORS are Good Neighbors
Every year, the National Association of REALTORS® hosts a week of volunteering as a part of their REALTORS® are Good Neighbors program.

This year, REALTOR® Volunteer Days are June 3-11, 2023. Projects to get involved with during Volunteer Days are posted below and are subject to change.
June 4: Open Streets Knoxville
Open Streets Knoxville brings together community groups and local businesses, giving people of all ages and abilities the opportunity to walk, ride bikes, hula hoop, and much more - all in a setting that is fun and safe! More than a street festival, Open Streets Knoxville gives residents an opportunity to explore their neighborhood and local businesses in a safe, fun, and family-friendly way.
Open Streets if from 2-6pm. Volunteers will be at the Association tent offering free polaroid photos, helping make picture frames, and discussing fair housing.
Dogwoods Across the Knoxville Region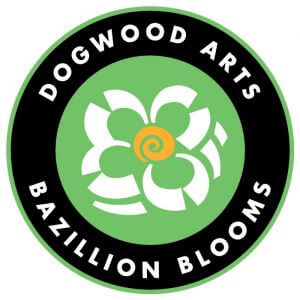 In September 2022, the National Association of REALTORS launched a Tree-Planting initiative. The goal was to plant 1.5 million trees across the country. As a part of this goal, East Tennessee Realtors is working with Dogwood Arts to plant 500 trees in the East Tennessee region. These trees will not only beautify the landscape of the association and Knoxville community, but also provide clean air, and a sanctuary for local wildlife.
Since 2010, East Tennessee Realtors has supported the children of Youth Villages through the Backpack Heroes initiative. Over that time, Association members have provided backpacks completely filled with school supplies for over 4,000 children. That totals over $300,000 in generous donations. Money for this program is raised through the Birdies for Backpacks Golf Tournament. Birdies for Backpacks raises $15,000 each year to fund the Backpack Heroes program at Youth Villages. This program provides backpacks and school supplies to children in need across East Tennessee. Because of your support, 300-400 fully supplied backpacks will be provided for students from Chattanooga, all the way to Johnson City, Tennessee.
You can read more about East Tennessee Realtors' involvement with Youth Villages HERE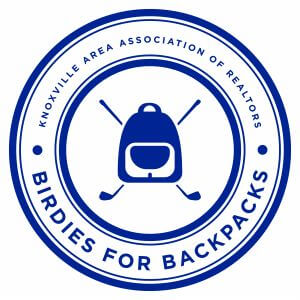 Our 5th Annual Birdies for Backpacks Golf Tournament was Friday, April 14, 2023 at Egwani Farms Golf Course. It was a rainy day, but we still had a ton of fun! Congratulations to our winners:
1st Place: Jenkins Builders
2nd Place: Apex Apparel
3rd Place: Atkins Home Group
Longest Putt: Cory Crain
Longest Drive: Amber Fawcett
Closest to the Pin: Byron Wood
Our 6th annual Birdies for Backpacks Golf Tournament will be Friday, May 3, 2024 at Egwani Farms Golf Course.
Increasing Literacy with Little Libraries
In 2021, only 40% of Knox County students were reading on grade level by the third grade. East Tennessee REALTORS partnered with Read City USA as a part of an October and November community involvement initiative.
Association members built 13 Little Free Libraries that were installed in the 12 county region that the Association serves. Brokerages and agents sponsored the libraries and continue to monitor them, keeping them stocked and maintained.
Check out the article from KnoxTN Today: Jacobs Thanks KAAR for Reading Boost
In 2023, East Tennessee REALTORS members built 7 more Little Free Libraries that were placed around a 12 county region.
Refugee Children Christmas Donations
This past December, East Tennessee REALTORS is partnered with
Bridge Refugee Services
to provide Christmas gifts for refugee children in Knoxville. Over 200 gifts were donated and wrapped by Association members and staff. Bridge aims to provide opportunities for refugees to rebuild their lives after suffering persecution so that they may become productive, contributing members of the community.
View this post on Instagram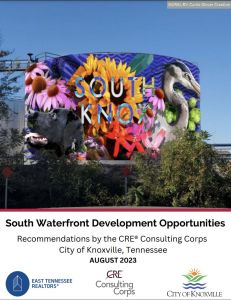 South Waterfront Development Opportunities Prepared by The Counselors of Real Estate® (CRE) Consulting Corps, this report provides strategic guidance for local leaders as they work to create a riverfront that is an award-winning example for the nation that binds and connects people to the river, to Knoxville, and to the adjoining nature preserves and parks.…